You might find some 'vegetable misfits' of the deliciously tasty kind in your Veg Box Delivery
While subscribing to a veg box delivery can create feelings of smugness and virtue, it doesn't mean you have to compromise on taste. If anything it's an amp up of flavour while you continue to eat with the seasons. Here at Feedback, we are harvesting vegetables when they are at their very peak and getting them delivered to you while there is still fresh rain in their roots and sun on their leaves. Vegetables truly at their very best.
But what about the ones grown a little wonky?
Often labelled as misfits, imperfect or ugly, firstly, maybe we need to reframe them in our minds. Vegetables don't always grow straight, that's a fact, so what does become of the wonky and bendy vegetables that are grown?
Here at Feedback, we embrace them! Grow them, harvest them, deliver them and importantly – we eat them. It's just all part of the urban farming process.  Sometimes vegetables grow in slightly different shapes (to the regular supermarket shelves veg that you might see) and by eating all shapes and sizes of veg, we are not only reducing food waste but importantly, putting a few more coins into your back pocket. That vegetable goodness, still with the same nutrient and health capacity, isn't being thrown out.
By eating a veg box that is both local and seasonal you are eating fresher and healthier – regardless of whether your produce is grown straight or wonky.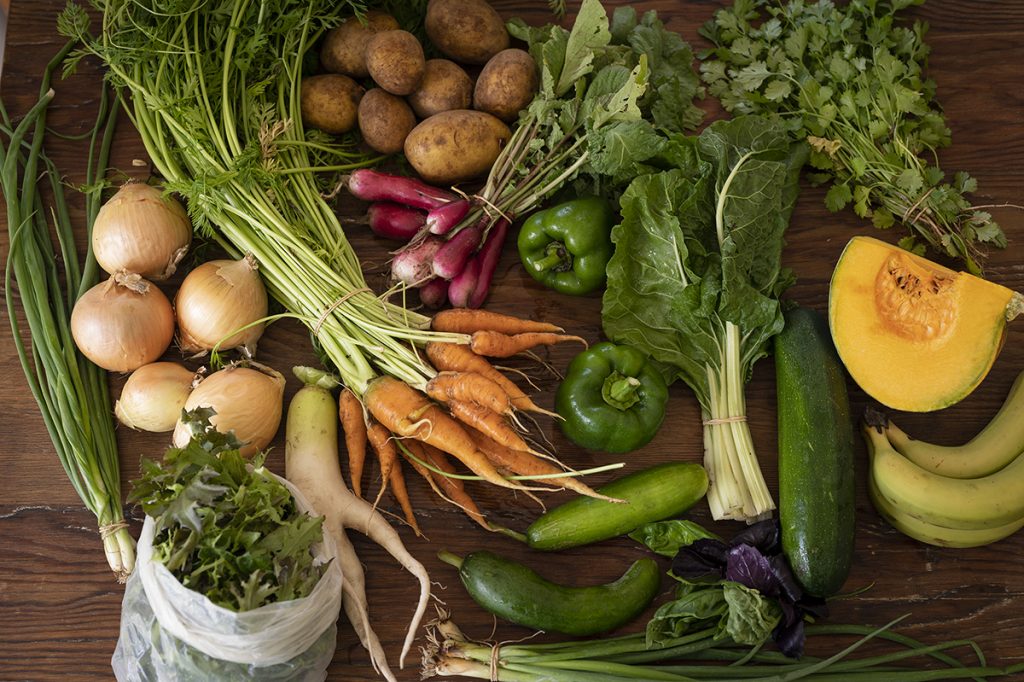 Pumpkin Hummus
1 can of chickpeas
1 clove of garlic
Juice of half a lemon
Salt to taste
1 teaspoon of dried coriander
1 cup of roasted pumpkin
Finely diced spring onion
Chilli – fresh, flakes or powder
1 heaped spoonful of tahini
Olive oil
Firstly, chop and roast your pumpkin on a tray in the oven at 200C, you want those pieces nice and soft but enhancing the taste by roasting. Then process all ingredients, including the roasted pumpkin to create a smooth consistency. Easy peasy – a tasty little versatile dish that can be used as a side dish or dip.

Keen for more hummus recipes? Try our Eggplant Hummus version as a side dish or as part of mezze platter.
Another organisation keen to divert food waste is Love Food Hate Waste showing households, communities and businesses how to stop wasting food and start protecting the environment.
---
What's in season for February 2021 for your veg box delivery?
Baby Beets . Basil . Cabbage . Carrots . Cucumber . Lettuce
Potatoes . Onions . Radishes . Salad greens . Silverbeet . Sorrel . Spring Onions . Swiss Chard . Tomatoes . Zucchini
Subscribing to a veg box delivery like FeedBox means healthy, tasty vegetables at your door!
---
At Feedback Organic we acknowledge the traditional owners, custodians and elders past and present of the Awabakal and Worimi people — land on which we farm and come together as community.