Fresh BASIL — really is there anything better?
Fresh vegetables delivered ensures healthy, seasonal, locally grown produce — at your door. Harvested and delivered on the same day, when you subscribe to a FeedBox you can literally still feel the warmth of the afternoon sun on your box full of veggies. Breathe in deep, as the smell of summer grown vegetables is one of the finer things in life – none more so than the incredibly fragrant herb, basil.
Want your fresh veg box delivered as soon as possible? Order today.
Coming in several varieties, basil truly knows how to throw an aromatic punch. Italian basil is abundant in the summer months and often used in things like a traditional Genovese Pesto, also goes well with any Mediterranean style cooking. Store your basil at room temp, with roots or ends in a little water if not eating straight away. Along with being different basil flavours for cooking, Perennial and Thai basil are also great garden additions — bees LOVE them! 

Summer Fresh Basil Pesto
2 cups of basil leaves (extra if you want)
2 cloves of fresh garlic
enough olive oil to make an easy to spread consistency
nuts (pine nuts, almonds, cashews, walnuts)
half a cup or so of grated parmesan
salt and pepper to taste
Place all your ingredients except olive oil in a food processor and process until finely chopped. Gradually adding in oil to combine and getting to a consistency you are happy with.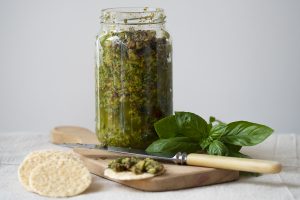 Alternatives to shake up your Basil PESTO game.
Pinenuts, almonds, cashews, seeds – think about what's going to give it that crunch and extra flavour, also what's locally available. Lightly toast nuts first for extra flavour.
Don't blend the pesto too fine, depending on what you are eating it with, sometimes a chunky basil pesto is just the trick!
No basil, no worries. Try a carrot top pesto — you'll be glad you did!
For a delightful Nonna version (and the truest of true versions) have a peek here. 
---
What's in season for January 2021?
Baby Beets . Basil . Beans . Cabbage . Carrots . Cucumber . Lettuce
Potatoes . Onions . Radishes . Salad greens . Silverbeet . Spring Onions . Swiss Chard . Tomatoes . Zucchini
By subscribing to a FeedBox  not only does it mean fresh vegetables, it also ensures healthy, tasty locally grown produce at your door — and on your dinner table!
---