Using your every little bit of your vegetable box delivery
We've designed not only a closed loop vegetable box delivery, but a whole urban farming system to make food waste a thing of the past. With nearly one third of all food produced in the world is either wasted or discarded, we not only don't want to be part of that statistic, but would also like to offer a sustainable solution.
Top 10 tips to avoid food waste when using subscribing to a veggie box
1. Have a look
Lay it all out on a table or kitchen bench and have a good long look at what you have.
2. Knowing what you are eating
Unsure of a few of the vegetables? Ask, look them up, investigate them. Whatever vegetables you are unsure of we can always give you a hand both in identifying and the best way to cook them!
3. Plan your meals
A seasonal mix is always included in your FeedBox, things like leafy greens, brassicas, carrots, pumpkins, potatoes etc. All dependent on availability and what looks great on the day of harvest. Have a vague mental list of how you might use up your seasonal produce.
4. Get to know your seasons
Seasonal produce handpicked in its tasty prime, importantly this is when you will find peak flavour and nutrients. While chain supermarkets have given us the ability to eat out of season, your FeedBox doesn't work like that. Expect zucchini in summer and turnips in winter!
5. Storing food the right way
Prioritise your vegetables — if you keep a rough idea of how you would load your vegetables into the fridge, then this is how you would eat them in priority. Leafy greens are first up, those goodies are packed on top of everything else and eaten first. Pumpkin and potato can be packed in first and eaten last. 

Want your vegetable box delivery as soon as possible? Order today.
6. Rethink and reimagine those leftovers
Wilted vegetables, last nights dinner. Whatever form it takes, rethink and reimagine those left overs. There's an abundance of possibilities.
7. Roots and Shoots – eating it all.
This is what Feedback Organic is all about, a complete no waste system. The majority of your FeedBox can be eaten, roots, shoots, leaves and all. Anything that can't be eaten, can be composted or placed in your FoodCycle bin.
8. Freeze it
Find yourself not eating it all in time? Freeze it. Whether you do so as a raw vegetable, blanched or cooked through, freezing offers you extra time in order to eat.
9. Think outside the box
Get creative in the kitchen. Realistically there are very few vegetables that really don't go together, you just have to think outside the box and get creative.
10. Love your vegetables 
Ultimately this is what we should all be doing, every day of the week. Vegetables at every meal, five and a half serves each and every day — love them like you mean it! 🙂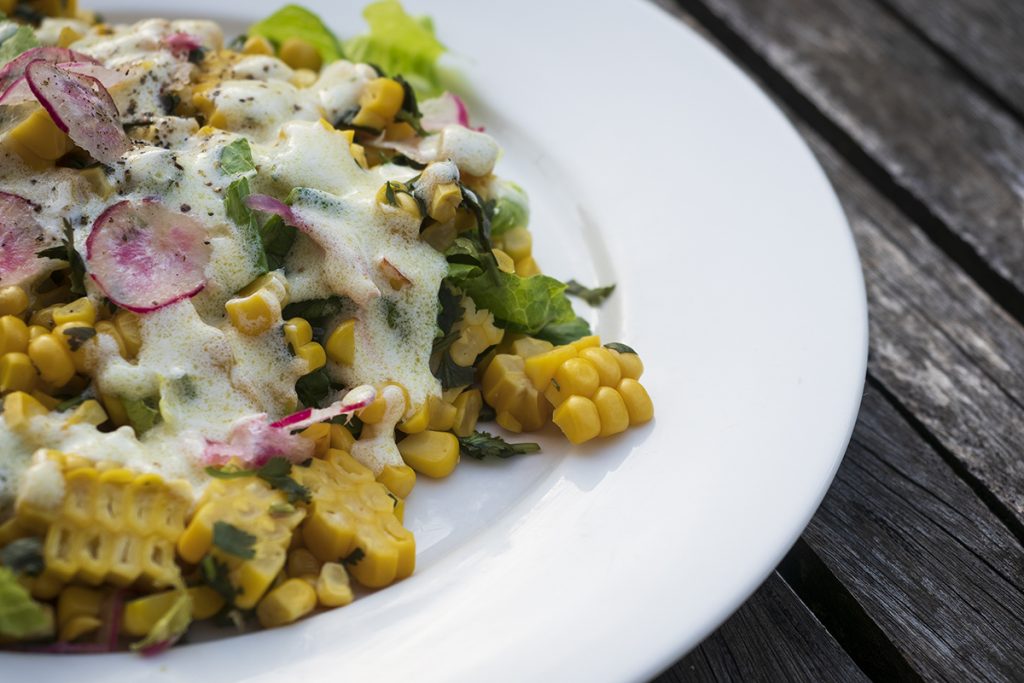 Coriander and Corn Salad
4 ears of corn, grilled or simply cooked through
1 bunch of coriander
a bag of mixed salad greens
one thinly sliced radish
Dressing
1/2 cup natural yogurt
1 clove of garlic
squeeze of a lime
drizzle of olive oil
salt to taste
optional – smoked paprika
Grill, steam or bbq your corn, finely dice some fresh coriander, take one bag of mixed salad greens and one radish — thinly sliced. For the dressing, in a glass jar add your ingredients and shake it like you mean it. Add to salad and voila! Bon appetit!
Keen to grow your coriander? ABC's Gardening Australia has some tips on doing so.
---
We have a tiny tweak for our harvest and delivery day over the Easter break – same delivered fresh organic vegetable goodness, just on a different day!
Delivery Day – Thursday 1st April
Delivery Day – Friday 9th April
---
What's in season for your Vegetable Box Delivery in March 2021?
Baby Beets . Basil . Cabbage . Carrots . Coriander . Cucumber . Dill . Eggplant . Lettuce
Potatoes . Onions . Radishes . Salad greens . Silverbeet . Spring Onions . Swiss Chard . Tomatoes . Zucchini
Subscribing to a vegetable box delivery box like FeedBox means healthy, tasty vegetables at your door!
---
At Feedback Organic we acknowledge the traditional owners, custodians and elders past and present of the Awabakal and Worimi people — land on which we farm and come together as community.