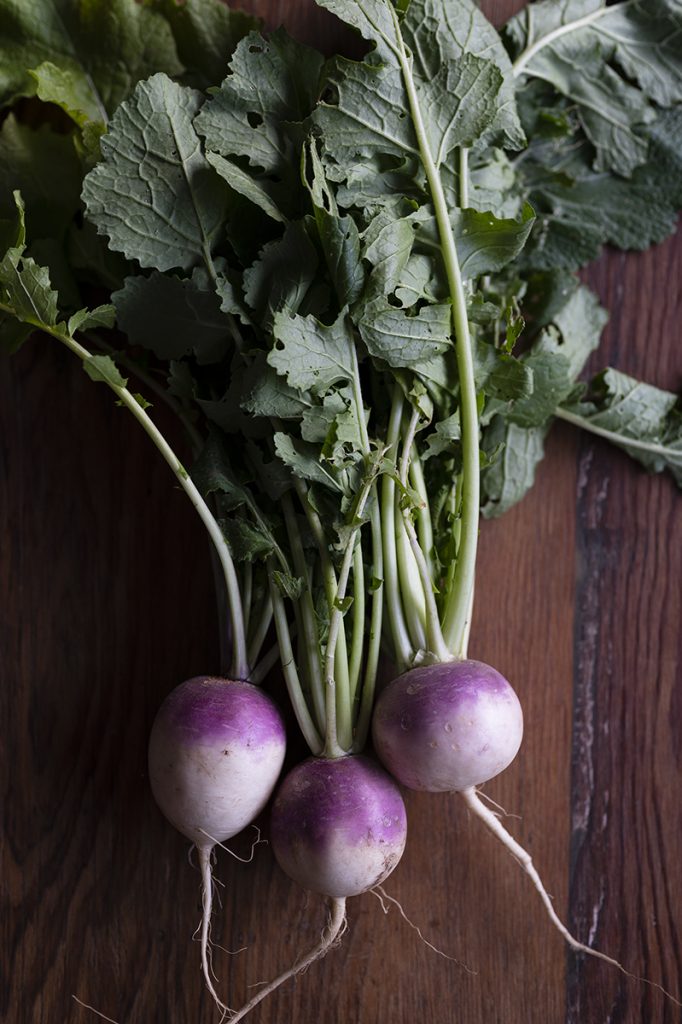 Soooo much good stuff to be had in the FeedBox this week! Getting an organic veg box delivered isn't for everyone, we know that. But for the ones that do — woohoo – oooh there are some goodies in there at the moment. Let's have a peek at what is in season for spring at Feedback Organic.
Turnip – your new best friend
Purple in colour, leafy in stem, these little cuties tick a ridiculous amount of boxes in terms of health benefits and taste wise hold their own. Roasted is THE way to do these beauties. Shove them on a roasting tray, drizzle with a little olive oil and forget for about 25 minutes at approximately 180C. So sweet! Or alternatively, have a peek below for some tasty turnip snacks, or try these turnip fries and kimchi mayo.
Daikon – time to just about to say goodbye
Another of the incredibly versatile vegetables within the radish family. The daikon is often mistaken for a parsnip or white carrot. It's neither though, having it's own unique fresh taste. SBS food recently highlighted the Pan-fried Radish Cake, which just quietly, looks quite divinely tasty! Or recap on our Daikon Slaw.
Beetroot – the all round good guy
This vividly coloured root vegetable can sometimes be a little daunting for the uninitiated — don't be though. As a first (delicious) step into the land of beetroot — which also happen to be full of antioxidants — pop them in the oven and roast 'em just like those turnips. The roasting creates a gentle sweetness and also lets their beet skins easily slide right off. Next step is eating them raw (try grating them) or pickling them. Need a quick beet recipe? Try this Beetroot, Coriander and Yogurt which pretty much goes with anything.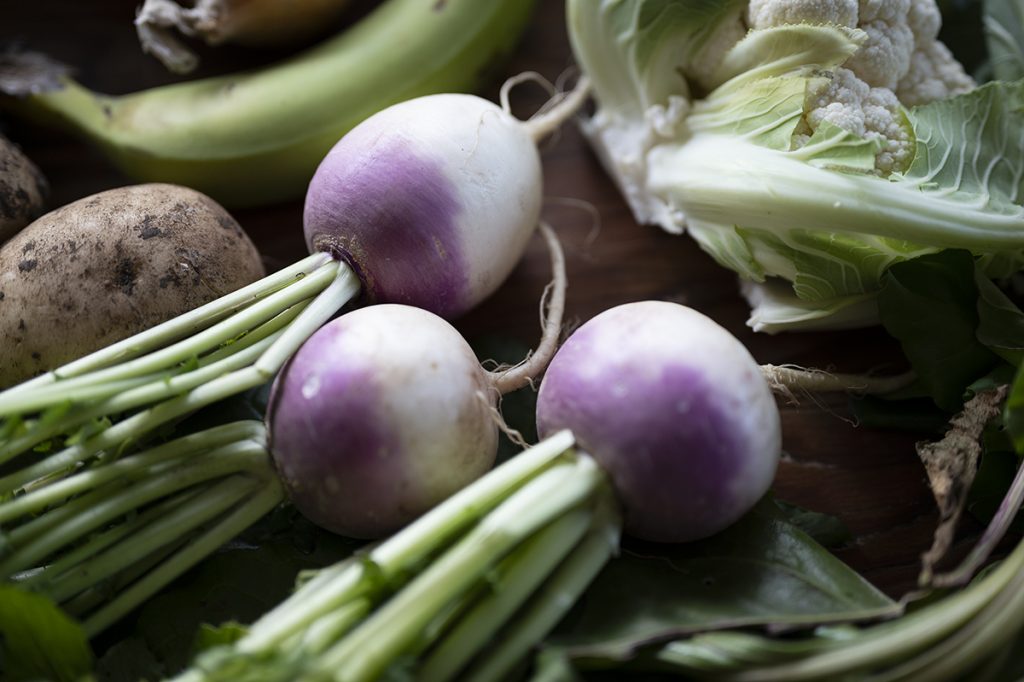 Tasty Turnip Snacks
taking 1 cup of grated turnip
another cup of grated carrots
2 finely chopped spring onions/ or half a finely grated onion
3 beaten eggs
1 cup of chickpea flour
a little diced garlic
1 tablespoon of kecap manis (Indonesian soy sauce)
oil for frying
Combining spices, shallots, eggs and chickpea flour together in a large bowl. Mixing well to combine: flour, cumin, garlic, and spring onions in a large bowl.
Grate turnips and add those into the chickpea flour mixture. Season to taste.
In a frying pan over a medium heat and a little oil, add your batter in small amounts. Turnip fritters are ready to serve and eat when they're golden on both sides, cooked through and smelling mighty fine.
If this recipe looks quite similar to our recent Carrot Fritters, you'd be right – still just as easy – and tasty!
---
What's in season for September?
Baby Beets . Broccoli . Cabbage . Carrots . Cauliflower . Daikon .
Potatoes . Pumpkin . Onions . Radishes . Salad greens . Silverbeet . Snow Peas . Swiss Chard . Turnips
Subscribing to a organic veg box delivery like FeedBox means healthy, tasty vegetables at your door!