Feeling smug and virtuous? You must have a locally grown (sustainable produce) food subscription box.
Cooking ruts are easy to fall into. Blindly buy the same vegetables each week from the supermarket and your meal time routines can quickly become blurred plates — it doesn't have to be so though. With a food subscription box, while the purchasing work is done for you, the rest is completely up to you, especially so when that box is coming with an abundance of seasonal produce.
At Feedback Organic, we love vegetables – a lot!
Firstly, open the subscription box, then lay all your vegetables out and cast an eye over them. You recognise most, unsure of a couple and sure as eggs are not sure about the last one. By subscribing each week (or fortnightly) you are instantly shaking things up in the kitchen. Forced to think outside the square, encouraged to delve deeper into the cook books, and straight up high-fiving yourself when your dinner plate incorporates not only one of the boxed vegetables, but a handful.
This is where not only feelings of health and vitality step in, but also a smidge of smugness and ability – an ethically* grown vegetable laden diet will do that to you.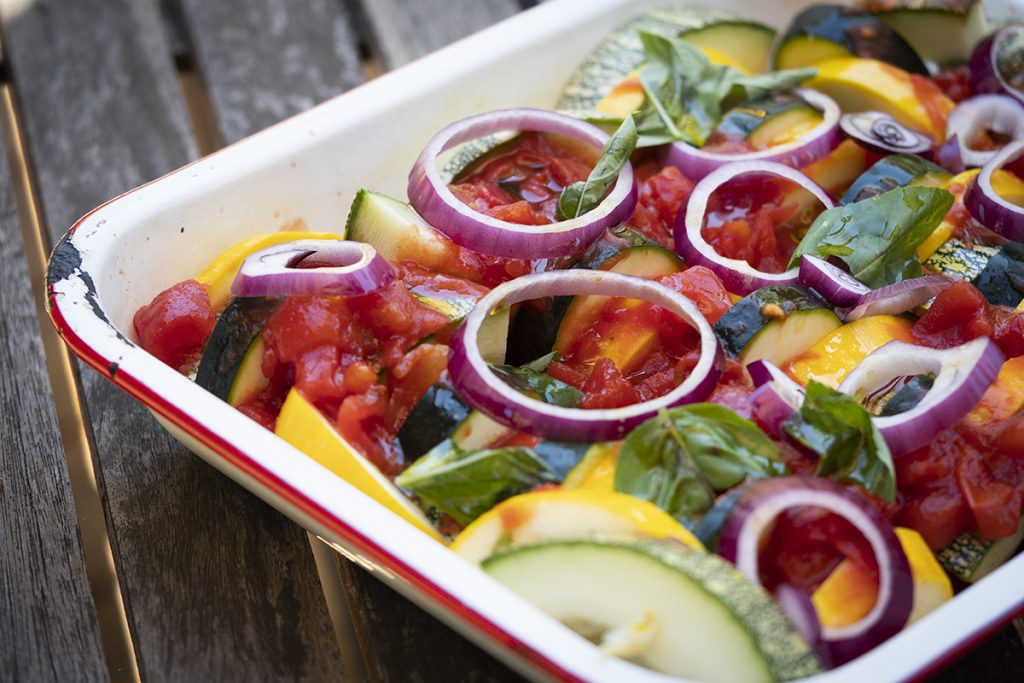 Rainbow Roasted Zucchini – straight from your food box!
On a roasting tray add your different coloured zucchini, one can of diced tomatoes (fresh if you have them) sliced red onion, ripped basil leaves and a good sprinkle of salt. Drizzle a good slurp of olive oil and roast at 180 until smells great and looks cooked. If you are looking to amp up the protein and not sticking to a vegan diet, add a generous sprinkle of cheese, crumbled fetta or crack a few eggs in — shakshuka style— before you start roasting.
Need a few more zucchini recipe tempters? Or perhaps a slab of Chocolate and Zucchini Cake for afternoon tea?
* Diving into the ethics of eating? Sustainable Table is great place to start.
---
What's in season for February 2021?
Baby Beets . Basil . Cabbage . Carrots . Cucumber . Lettuce
Potatoes . Onions . Radishes . Salad greens . Silverbeet . Sorrel . Spring Onions . Swiss Chard . Tomatoes . Zucchini
Subscribing to a food subscription box like FeedBox means healthy, tasty vegetables at your door!
---