You've got your vegetable home delivery — now let's speed date your vegetables!
So you've got your vegetable home delivery box sorted, you've laid them all out, had a good look and and packed them away. You know most of those LOVEly goodies, but you're still not quite sure about a few of them.
This quick Speed Dating Vegetable list will help you throughout the year, as it has a solid list of all the main vegetables that we both grow and source for you as part of your vegetable lovin' home delivered FeedBox.
Still not quite signed up for subscription yet? You can sign up for a FeedBox any time you are ready!
Basil: This fragrant herb comes in several varieties that all throw an aromatic punch. Italian basil is abundant in the summer months and often used in things like a traditional Genovese Pesto, also goes well with any Mediterranean style cooking. Store your basil at room temp, with roots in a little water if not eating straight away. Perennial and Thai basil are also great garden additions, as bees LOVE them! 
Beans: Top and tail the ends, and eat them raw as a snack. Steam, stir fry and bung them in pretty much any dish you are making. Use within 3 days and store in the crisper section of your fridge.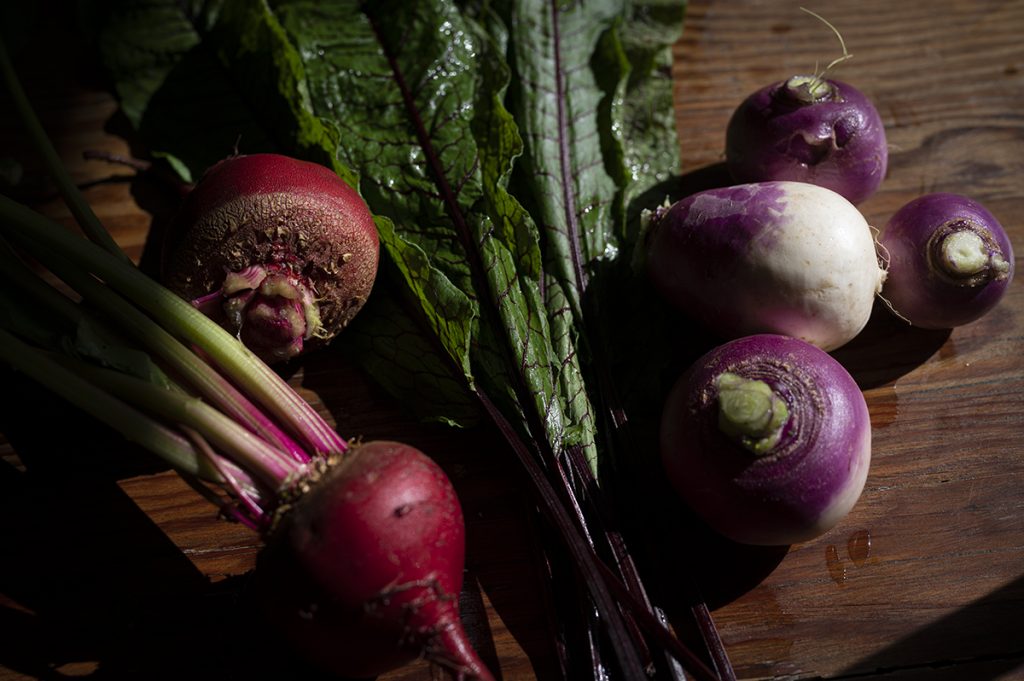 FeedBox — your favourite vegetable home delivery!
Beetroot: This vividly coloured root can sometimes be daunting for the uninitiated — don't be though. As a first step into the land of beetroot (which also happens to be full of antioxidants)  pop them in the oven and roast em'. The roasting creates a sweetness and also lets their skins easily slide right off. Next step is eating them raw or pickling them.
Broccoli: Bursting full of Vitamin C, broccoli can be eaten raw or cooked. Best eaten within the first few days, and tastes damn fine cooked up with a slathering of olive oil and garlic, then stirred through some orecchiette pasta.
Broccolini: Having the same goodness as broccoli, just cuter! Broccolini is a cross between broccoli and kale. 
Carrots: Carrots are a great source of beta-carotene and one of the most popular bought vegetables here in Australia. Firstly, divide your stems from your carrot (both the root and the tops can be used). Eating your green tops now and bottoms tomorrow. 
Chillies: Harvested in the warmer weather, chillies vary in heat however not in nutrients. As a great source of Vitamin C they also have vitamins A and K to their name. If you are not eating them fresh, whole chillies can be stored in a small bag in the freezer or hang them up and dry them. Have excess chillies you aren't sure what to do with? Make up a simple sweet chilli sauce.
Coriander (Cilantro): It seems you either love it or hate it and there isn't a lot of middle ground. Fresh coriander is best eaten chopped and raw — add it to pretty much any dish, or give David's famous coriander dip a crack!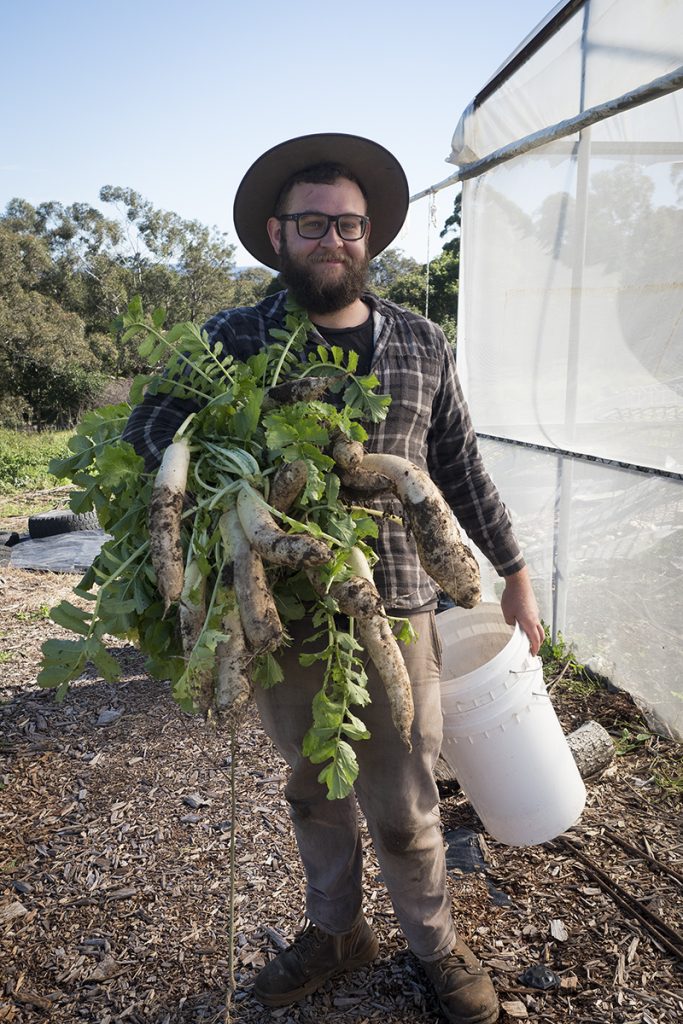 Cucumber: Crispy skinned with a flavourful inside the Lebenese cucumber is the favoured growing type here at Feedback. Known for playing host to vitamins A and C, the cucumber is another regular staple that can easily grace every meal time throughout the day. Store in the fridge and eat within a few days for that distinctive crispy fresh taste.
Daikon: With a light peppery taste the daikon is a close cousin to the colourful French Breakfast radishes we grow. As another easy vegetable to grow, it's equally adaptable to a number of tasty dishes. Whether you shred it into a coleslaw, roast or pickle it to be eaten as an accompaniment. Your weekly eating is far better for having daikon regularly in it. High in Vitamin C, it's also known to be helpful with digestion. Store in the fridge with stems cut off (these can also be eaten) for up to a week — no need to peel the daikon skin before eating. (Keen to try Daikon Cake? Yotam has you sorted in the kitchen.)
Eggplant (aubergine): Sliced, diced, baked, grilled, roasted — there isn't much you can't do with eggplant — it's one of those beauties that will take on the flavours of pretty much anything you team it up with. Eat within the week before the skin turns bitter or yellow. 
Lettuce: Store all lettuce types in the crisper of your fridge and eat within the first 3 days.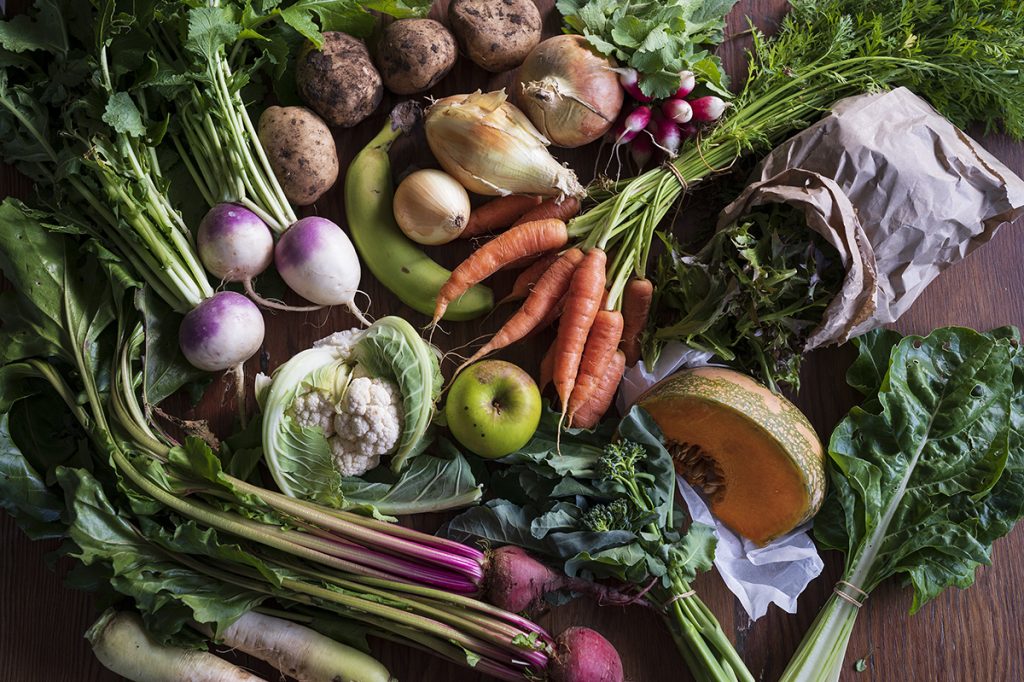 Onion: Used as a basis for countless meals the world over, onions in the feedBox are generally going to be of the brown or red variety. These can be stored in darkened corner and used as needed.
Potato: Sitting as one of the most popular vegetables regularly bought within Australia, potatoes are ideal for baking, steaming and roasting. People have held debates long into the night over the best way to roast a potato. Best stored in a cool, dry, dark spot where they can keep for several weeks.
Pumpkin: A versatile beast, the pumpkin comes in an assortment of varieties that can all be roasted, steamed, mashed and eaten sweet or savoury. Once cut, use pumpkin within a day or two.
Radish: With a peppery kind of taste, radishes are great to eat raw, slice it up thinly to pop in salads or roast em'. They come in all kinds of shapes and colours and are fast growing, here at Feedback we generally grow the French Breakfast variety. If you aren't eating your radishes straight away, take the stems off as they can draw a lot of the goodness away from the actual radish- store for up to two weeks. Leaves can be eaten as well- cook them as you would silverbeet.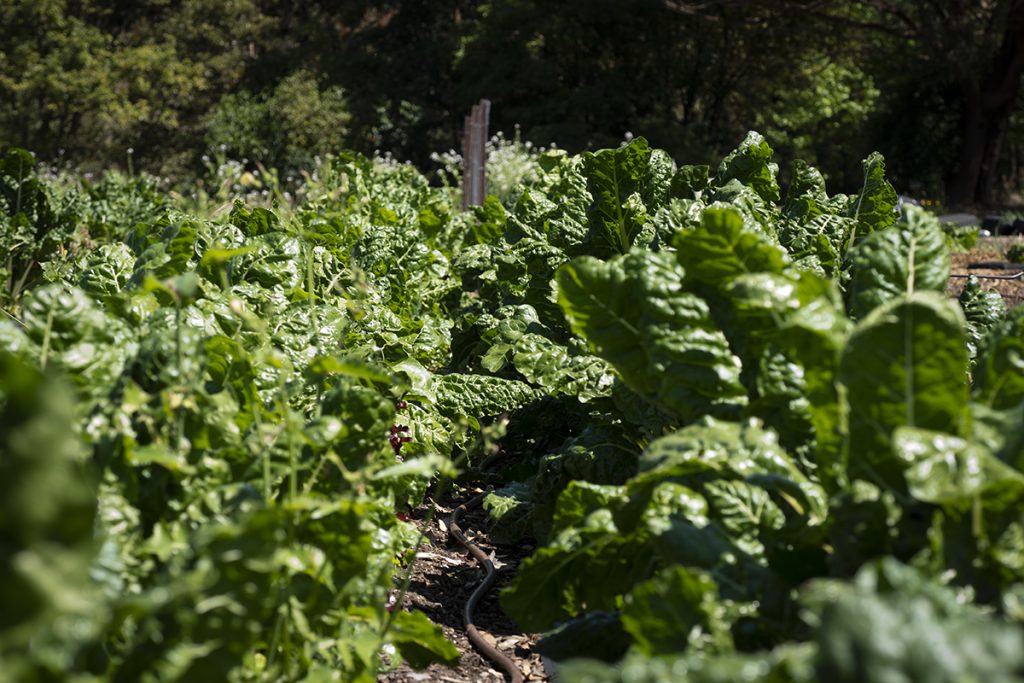 Silverbeet: At its peak in the cooler months, silverbeet is a great source of fibre and can be used in an assortment of dishes. Store in the crisper section of your fridge and use within the first two days.
Spring Onion: Growing all year round, these mild in favour meal additions are best eaten fresh, and raw. As a handy little addition, you can also cut and grow them again. Simply cut the spring onion leaving the roots attached, pop them in a jar of water with roots submerged and wait until green shoots appear. Change the water every few days if keeping on a window sill (or plant in soil).
Tatsoi: With a very mild mustard flavour, tatsoi can be eaten raw or gently cooked as you would spinach. Use within the first three days and store within the crisper section of the fridge.
Tomatoes: Tomatoes love the warmer months and though can be grown all year round here in Newcastle, they taste their lip smacking best with a warmer sun on the soft antioxidant loving skin. Here at Feedback we will always allow them to ripen first before harvesting. Best eaten fresh or cooked through countless dishes. 
Zucchini: As a source of vitamins A, C and K, zucchini is grown over the warmer months of the year. Once harvested, store in the fridge for up to 4 days, zucchini can be eaten both raw and cooked. There are countless options to enjoy zucchini, however grilling with some garlic, olive oil and a little minty yogurt dressing might just be the quiet winner.
---

Roast Radish, Prosciutto and Gorganzola (one of David's favourites!)
French Breakfast radishes
olive oil
lemon juice or lime
thyme
gorgonzola cheese
prosciutto
Take one whole bunch of freshly washed and dried French Breakfast radishes, laying them out on an oven tray and the drizzling with olive oil and sprinkling with a little thyme. Cook those beauties at about 180C for approximately 15 minutes, then adding your layer of gorganzola and thin strips of prosciutto. Adding in a squeeze of lemon juice or lime and cook for a further 5 minutes in the oven.
---
What's in season for February 2021?
Baby Beets . Basil . Cabbage . Carrots . Cucumber . Lettuce
Potatoes . Onions . Radishes . Salad greens . Silverbeet . Sorrel . Spring Onions . Swiss Chard . Tomatoes . Zucchini
Subscribing to a vegetable home delivery box like FeedBox means healthy, tasty vegetables at your door!
---
At Feedback Organic we acknowledge the traditional owners, custodians and elders past and present of the Awabakal and Worimi people — land on which we farm and come together as community.